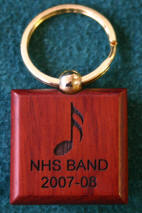 Front
Engraved With School & Year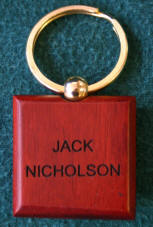 Back
2nd Side Engraved Add $5.00
RWKHMU

Front
2nd Side
1
$10.00
$15.00
2-5
$9.00
$14.00
6-10
$8.00
$13.00
11-25
$7.00
$12.00
26-50
$6.00
$11.00
51+
$5.00
$10.00

We ship FAST, most orders ship same day!

Questions? Please Call!!
Toll Free 866-282-9168
27 Years of Experience.
We're Here To Help.
To Order:
STEP 1- Enter Quantity
STEP 2 - Enter Engraving Information For The Front of The Key Holder. If 2nd side is to be engraved skip a line
and enter each line of Personalization.
There must be a > at the beginning of each line to determine the beginning of a new line (Hint: Use down arrow instead of enter key after entering each line.)
(See sample at left)
STEP 3 - Choose if 2nd Side Will Be Engraved (Add $2.50)
STEP 4 - Click Add to Shopping Cart Button
RWKHMU
Rosewood Music Key Holder
1 5/8" x 1 5/8"

Sample Order Form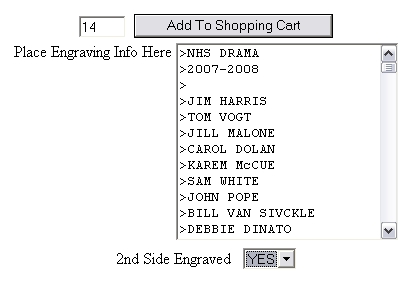 If you have a large number of names,
we accept Word or Excel,
just email your info to trophiesto@aol.com
(Include your name and phone #)
and enter sent by email in the enter engraving box.